November 18, 2020 by Kiet Duong
How to Prepare Your Site For Black Friday and Cyber Monday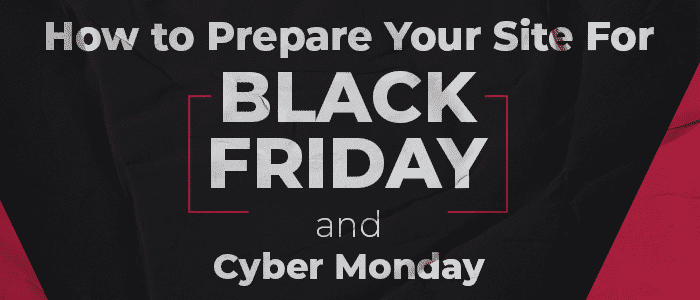 While the holiday season may still seem comfortably far off, you now need to start preparing for Black Friday if you have a website or small business.
We are now entering the holiday shopping season, with Black Friday and Cyber Monday approaching very soon, so you need to make sure your website is prepared for the increased traffic and holiday sales by offering more products and getting your name out there early.
It has been a difficult year in more ways than one, and while Black Friday last year was a busy one, it is going to take additional preparation ahead of time to ensure your small business is ready to handle the amount of traffic and demand that 2020 will bring.
This article is going to show you the things you will want to consider when dealing with the increased demand that this year's Black Friday and Cyber Monday will bring, ensuring that you can appeal to both loyal customers and new customers alike.
Is It Better To Buy Online On Black Friday?
Black Friday and Cyber Monday are the biggest events for businesses when it comes to holiday shopping, which is why it is so important for you to prepare for this shopping weekend before the big day arrives.
This is when people start their holiday shopping and aim to get as much done as possible with the great deals that are going on. Traditionally, Black Friday deals were an in-store event that made people visit malls and their local high streets in search of holiday deals, but with the increase of technology and online shopping, Cyber Monday was born.
Cyber Monday sales, like Black Friday, offer great deals to customers for a limited time but exclusively online.
This has been a strange year in more ways than one, and it makes it hard to predict exactly what will be in store for Black Friday 2020, but if there is one thing that can be guaranteed it is the fact that more customers will be going on the internet for holiday deals.
Instead of having a shopping day out at the mall, you will need to keep in mind that your customers and potential customers are likely going to be spending this weekend exclusively on the internet, which is why you cannot leave your site preparation to the last minute. You want to ensure that your site is prepared and optimized for the increased traffic that will happen during this weekend.
Your site must offer a great shopping experience for customers, making it easy for them to get the deals they are looking for, whether they are using a desktop or mobile devices.
This may be the first time that you are partaking in this weekend as a site, and what a good way to ensure profit! But you will need to know the various ways you can get your site ready for this busy season of the year and how you can make it easy for people to make purchases with your brand.
How Do I Prepare My Business For Black Friday?
There are several things you will need to do to prepare for Black Friday as an eCommerce business, and you will want to get ready for the busiest day of the season early, so you don't miss out on sales.
The following is a brief overview and are the areas you will want to focus on to make this Black Friday and Cyber Monday more successful than last year. We will address these in more detail later.
· Start Marketing Campaigns
To ensure that people know about your business and are aware that your website is partaking in Black Friday, you may need to up your marketing efforts.
This can include using email marketing, social media, and other forms of marketing strategy to attract people to your website before the big day arrives.
· Review Your Goals And Sales
Before you can plan out your online sales for Black Friday and Cyber Monday, you first need to review your current sales. You can use your current sales to plan out your goals and prepare for Black Friday, as this will give you an accurate estimate of what you can expect.
Reviewing your sales is a great way to see whether there are any areas of your business that need improving before Black Friday, as well as giving you an accurate estimate of the numbers you can expect.
· Access Your Ecommerce Tools
If you already have an eCommerce business, then now you need to access the tools you use and make sure that they can handle the increased traffic that will be coming your way.
Tools like your security, payment methods, checkout process, and shipping costs will need to be addressed to ensure that your customers will have a great time using your website. You want to make sure that your website is optimized for not only the increased traffic but also for the increased use of your eCommerce tools.
This means you will need to keep an eye on your security and loading speeds, as well as the number of products within your store.
· Plan Deals
There is going to be a lot going on for Black Friday Cyber Monday, and you will want to stand out from the crowd.
You now need to start generating a buzz around your store on social media and to do this, you will have to plan out what kind of deals you can afford to give your customers.
Offers such as free shipping on certain orders and exclusive products can be a great way to generate hype around your store and encourage people to visit your website.
Things To Do Now
To prepare for Black Friday Cyber Monday, there are some things you need to take action on now to ensure you are prepared for the upcoming holiday season.
This includes:
· Send Out Email Marketing
If you are an existing business, you now need to start sending out marketing emails to your customer email list where you can let them know about the deals you will be offering on Black Friday and Cyber Monday.
To draw in customers during this period, offer them content they can use while also advertising your brand. A good example of marketing emails that work is gift guides. Gift guides can be very useful for customers, as you are helping them out with their shopping while also advertising the products you are selling during this period.
Another form of email marketing that you will want to set up now is abandoned cart emails. This is a way to counteract lost sales, as you will be reminding customers of the products, they wanted at the that time but did not complete the checkout process for.
· Create Landing Pages
During the Black Friday Cyber Monday weekend, people are going to be browsing for the best deals and offers on the internet.
To ensure your site is included in this search, you will want to create a specific landing page for Black Friday Cyber Monday.
By creating specific landing pages for your holiday deals, you will be attracting more people to your site and making it easy for them to find what you are offering.
This is something that can be easily done, such as adding a Black Friday slug to the meta description and title of your site around this time.
· Increase Customer Service
Black Friday Cyber Monday is the busiest time of the season for your site, so you want to ensure that you are prepared for every eventuality.
During this season, you may want to increase your customer services, such as adding a live chat platform or creating a unique email address that visitors can use if they have any issues. These are great things to use around this period, as it allows instant communication with visitors and ensures that any issue they come across can be resolved immediately.
As well as offering the best products at great prices, you also want to ensure that you are offering your clients a great experience when shopping, which is why customer service is something to consider carefully. You may want to get more people on your team for this weekend to ensure you are prepared.
· Remember Keywords
To get as many people onto your site during this time, you want to ensure that you are coming at them from all angles.
This means considering and making adjustments to the keywords you use on your website and social media, ensuring that all variations of specific terms are included, especially surrounding the kind of products you sell.
People will be searching on the internet during this period for specific items and the deals that they can get for them, so make certain that you are listing your products alongside terms like 'Black Friday' as keywords to attract as much traffic as possible.
For more business advice during this season, please follow our blog for regular updates.