November 18, 2020 by Kiet Duong
10 Tips To Increase Your WordPress VPS SEO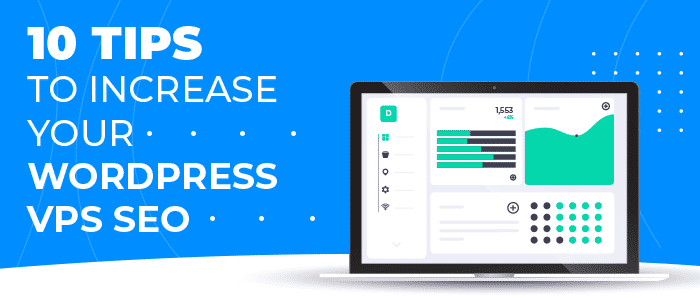 Search engine optimization (SEO) ensures that your website will rank well on search engines like Google or Yahoo, so it is easy to find.
You want to ensure that your WordPress website ranks high in SEO so that people who search for specific terms relevant to your content will find you.
As you know, there are thousands of search engine results for any term that you enter.
This is your competition, and to get views and engagement, you need to be able to stand out from the crowd.
We are going to help you do this by sharing the ten best WordPress SEO tips to improve the optimization of your website.
First Step: Find A Reliable VPS
Before you can work on search engine optimization, you first need to set up a WordPress site.
When it comes to VPS web hosting, you want to find an optimized platform that offers high levels of security to keep your data protected.
IO Zoom is the best hosting provider for WordPress. We have several hosting plans available for this site that include high-performance SSD and DDos Protection, so you can find the right hosting plan for your needs.
Not only is web hosting an important factor for security, but it can also enhance SEO organically and is one of the best practices to do for this reason.
When you have a secure, fast-loading, and reliable WordPress website, such as one protected by a web hosting provider like IO Zoom, it will rank higher on search engine results organically.
How To Increase SEO On Your WordPress Site
The following are the best WordPress SEO tips that are guaranteed to improve the search engine visibility of your website. With the following SEO tips, you will be making it easier for search engines to rank your website higher.
Google and other search engines have a specific list of considerations that go into the way they rank a website in their search results.
Using the following SEO tips will make your website rank higher in search engines and therefore gather more traffic and engagement.
1) Install Yoast SEO Plugin
Yoast is a WordPress SEO plugin that offers automatic search engine optimization and does everything from creating XML sitemaps to making URLs SEO friendly on WordPress.
This is a free plugin that you can add to your WordPress site and is an all-in-one SEO solution. Even if you do not have the time or the skills necessary to improve your SEO, this plugin will do it for you, which is why it is one of the best tips to use.
There are several SEO plugins available at WordPress, but Yoast is the most popular to use as it has a lot of free features you will want to use to get started.
You will need to locate the plugins section of your site and choose to Add New plugin to install Yoast.
Once this plugin has been installed on your site, you will now be able to optimize every blog post published to make it SEO friendly.
2) Find The Right Keywords
Creating content that is optimized for search engine rankings means that you are making sure it contains the relevant keywords that rank the highest in results. 
The more keywords you have within your content, the greater it will perform in Google search results.
You want to make it easy for your audience to find your posts and pages, so make sure to add keywords that are constantly searched into Google.
Before publishing, perform some keyword research and make sure you have a list of:
· The focus keyword for your content
· Alternative versions of the keyword
· Long-tail keywords to target specific people
3) Optimize The Title
The post name is another vital way to improve the SEO of your site, so effort needs to be put into writing it.
The title of your content must relate directly to the topic so Google can determine if it is relevant to the keywords people search for.
For this reason, the page title needs to include the main keyword in the title.
One of the best tips and tricks when it comes to writing titles for a post or page is to make sure that the keyword is as near the beginning of the title as possible. This is because Google and other search engines list website titles in their results.
4) Configure Subheadings
A website like Google will check your site and posts for subheadings to determine whether it is relevant to the keywords in your title.
This is one of the easiest WordPress SEO tips but is something a lot of website owners neglect.
All you need to do is format the subheadings within your content, so they are recognized. Just putting them in bold or underlining them is not enough. What you need to do is give it H2 heading tags.
To do this, simply highlight the subheading, click the setting for the paragraph, and choose Heading 2 from the drop-down menu.
It is important that you choose the Heading 2 option, as blog posts should only have one Heading 1, and that is the title.
5) Add Keywords To The Opening Paragraph
Just like the Google search console assumes that you will add the keywords into the heading of your content, they also assume that you will do the same to your opening paragraph. 
Keywords are a vital part of SEO, and they need to be used in both internal and external elements of website content.
Adding keywords into the opening paragraph should be easy, as this should be an introduction to your content, and the main topic will need to be addressed. 
Without the main keyword in your opening paragraph, Google Search console will assume that your post is not about the topic mentioned in your title and will rank your site low in their results.
6) Add Keywords To The Closing Paragraph
This part of WordPress SEO is the same as above. To make sure that your website ranks high in search engine results, you need to continuously use keywords.
The last part of your post is considered to be a conclusion, which means that it is only natural for the main topic to be mentioned again as you sum up your points.
7) Keyword Density
Keyword density refers to the ratio of keywords against the size of your website content.
Search engines like Google will once again assume that as your content is focused on a specific topic, so the same keyword should be used throughout as you refer back to the main point. 
This is one of the trickier SEO ranking factors because it requires you to use the keyword a decent amount to be noticed by search engines, but not too much to impact the readability of your site.
If you use your keyword too sparingly, then search engines will not register it. But if you use it too much, they will think you are using black hat SEO tools that use keyword stuffing to add in as many keywords as possible and are not accepted on search engines. Using too many keywords on your site can result in you being penalized.
The best way to attract organic traffic to your site or social media is to ensure that you are using keywords enough without having to duplicate content.
8) Add Keywords To Meta Descriptions
We have already stressed the importance of keywords, so it should come as no surprise that they also need to be included in alt text and internal links.
Creating meta descriptions is something that can be done easily using Yoast SEO.
Through this plugin, you can create a concise meta description for your posts that will be used by search engines to determine the relevancy of your work.
To ensure that your website ranks high in results, ensure that keywords are used within the meta description.
9) Optimize Your Images
To ensure that your site is deemed high quality by search engines, all elements of the
XML sitemap need to be optimized for SEO. This includes the standard internal and external links, but one part of WordPress SEO that many people forget is the images.
Optimizing images means adding at least one alt tag to every image that is used on your site.
This is easy to do: simply go to the settings reading within the visual editor of your content and click the pencil icon. This will open an editing dialogue and is where you can write a short description of the image.
Ensure that this includes keywords to enhance the relevancy of your site permalink structure.
10) Check With Yoast
Yoast is the best WordPress SEO plugin for a reason, as it makes it easy to optimize your site and WordPress posts before publishing anything.
You can use this plugin to take a look at your blog posts before publishing to see what you need to amend for SEO.