November 19, 2020 by Kiet Duong
10 Reasons to Use WordPress For Your Website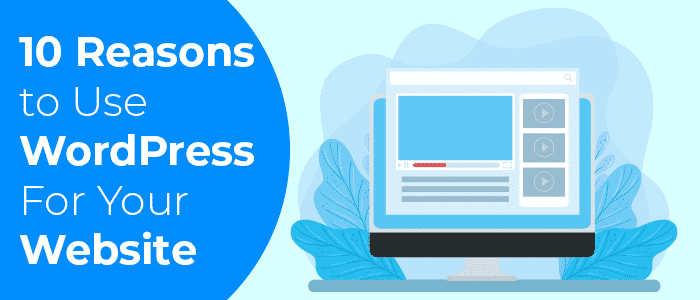 Compared to every other content management system (CMS) on the internet, WordPress is often said to be one of the best options for creating brand-new sites. WordPress is open-source, easy to use, mobile-friendly, and excellent for creating a blog in just a few clicks – but what are these features like when you actually start using them? Here are ten reasons to use WordPress for your website, whether it is a business website for drawing in customers or a personal WordPress site to use for your own purposes.

1) WordPress is SEO-Friendly

One of the biggest reasons people struggle with some website builders is the lack of user-friendly SEO options. Search engine optimization can be a massive part of web hosting, nudging your site into relevant results on search engines and making it easier for users to find you within all of the other websites on the internet. Although WordPress started as a blogging
platform, it has gradually begun to support more themes, website types, and even unique types of content.

As with any good content management system, a WordPress site can be tweaked on both the external and internal levels. The design of your site might stay the same, but there are plenty of ways to adjust your WordPress sites from within.

2) WordPress has Plugins

Themes and plugins form the backbone of any WordPress business website. Good WordPress plugins can make any websites or blog pages completely different, giving you access to a huge amount of free (or almost-free) code that can extend your websites dramatically. There is everything from standard plugins WordPress offers for blog pages to premium plugins that completely change the kind of content you can host, and they are all
available straight from WordPress itself.

All of these tools come together in a way that improves your website and minimizes the frustration you will feel while dealing with it. Instead of having to track down highly specific people who can write code tailored to your existing theme and design, you can spend a few clicks to quickly piece together the perfect system. 

3) WordPress Offers Themes

The biggest issue with designing a free WordPress site can be the design, but that can be solved with a WordPress theme. These allow you to not only see examples of good websites that you might want to copy the designs of but also lets you create variations on these themes with the tools you get inside WordPress itself. This is quick, easy, and can help you create the
perfect site for free with only a little bit of extra time and effort.
These themes can also be responsive, letting them work on almost all devices around the world with minimal tweaking needed: you won't have to re-design your free website over and over again to make your business work on mobile platforms, for example. A lot of them are also highly customizable, from colors right down to the way that they interact with particular parts of your website.

4) WordPress Isn't Locked Down

One of the biggest problems with website builders is the fact that you create a site and are forced to use certain hosting options. Once you build a website, WordPress gets around this issue by using a wide pool of developers and contacts, meaning that you will never be locked in place and forced to deal with people that don't gel with your business properly. You also get plenty of control over how your business website is hosted, how you are using WordPress, and the domain name of your site.

Not only does this offer you more freedom in general, but it also means that things like plugins aren't restricted to a certain host: if you want to use something on your website, you can, regardless of who is managing your website or now you have set up the agreement. You can sometimes even install multiple plugins alongside each other and have them work together, or alter them yourself to change how they function. 

5) WordPress is Easy to Understand

WordPress makes great websites for free, and using WordPress never feels like a chore. Whether you want to create a full online store with open-source third-party shopping plugins or just set up a little blog site that you can use for your own rambling thoughts, it doesn't take much effort to start using WordPress. You can throw a website up in 10 minutes or less and
tweak it as you see fit, with no need to consult any kind of verification system or fight against the plugins you are trying to use.

6) WordPress has a Great Reputation

Not only is WordPress a very reliable site in terms of security and performance, but it is often a recognized domain name. If you use WordPress, most people will be able to tell what "WordPress . org" or  "WordPress . com" is supposed to mean, even though WordPress . com,
and WordPress . org are technically two different websites. Companies that use WordPress don't just improve the chance of them getting business, but it can also benefit their own reputation since they have a much lower chance of hosting viruses or loading slowly.

7) WordPress is Older

While this might seem like a bad thing at first, WordPress's age makes it the perfect choice for building a website. If you use WordPress, you aren't going to have to figure it out yourself. There are tens of thousands of tutorials for making a WordPress website across dozens of languages, and it isn't hard to find guidance if you are stuck with a certain feature or detail. In fact, many plugins even come with their own tutorials to support the installation, and you rarely need any kind of direct assistance to make something work.

8) WordPress is Popular
WordPress, as a platform, will see millions of views every day, making it one of the biggest powerhouses in the blog world and an equally powerful hosting tool. At the very least, this kind of high-traffic hosting can mean that you are more likely to get new customers simply by being part of WordPress' network, and that is on top of the improved SEO features that
can market your content to more people than most other platforms. A high market share is also never a bad thing when it comes to hosting.

This can also help if you are a new business, too. While hosting your own website can be more impressive in tech industries, having a well-made WordPress-based website can often make you seem far more professional and might even help you lock down business deals or secure support from people interested in what you offer.

9) WordPress is Accessible

WordPress is both a website builder and a coding tool, but thirty-party users don't have to commit to one or the other. You can use WordPress as a drag-and-drop site through their themes and plugins or code an entire website from scratch, with plenty of opportunities to do both if you have the skills for it. On the other hand, if you are completely new to website
building and don't know how to code anything, it is easy to piece together a functional site in a single afternoon.

10) WordPress Works

There are plenty of third-party hosting sites out there, but many people use WordPress anyway. Not only do people like WordPress, but it sounds like some people actively support WordPress because they want to see it grow and become better than ever before. Your only barrier to entry is a name, email address, and whatever skills you might need support with: in a short amount of time, you can make a website with every e-commerce and social media feature you want and need. If WordPress wasn't effective, it wouldn't have become so popular.

Why should I use WordPress for my website?

In general, WordPress is an amazing service, one that still continues to grow and expand with every major update. Features like improved SEO and extra plugins can be added at any time by both the WordPress team and the open-source community, so you are not stuck relying on a single company to update the platform: if something needs to be changed, somebody will
create their own plugin or code to make it work.

It is also a platform with no real downside. You get full access to a huge range of tools and optional extras, a massive community, hundreds of hosting options, and even have the opportunity to rebuild your site from scratch at any moment. Whether you are a large company owner or a single person who just needs a small place to show off their newest hobby-based creations, there is almost no problem with using WordPress at either a personal or professional level.

If you are interested in starting your own WordPress site, take some time to look into things you should do before your website launches so that you are prepared for the big reveal. On the other hand, if you are ready to start hosing straight away, come and see what kinds of benefits you can get from a WordPress host.